Summary:MTVH recalls three occasions on which we hosted Her Majesty Queen Elizabeth
---
The country continues to reflect on the life of Her Majesty Queen Elizabeth II. At MTVH, we recall that her reign spanned MTVH's existence, beginning before the establishment of founding organisation Metropolitan in 1959.
During the current period of mourning, we join the rest of the country in sharing recollections of meaningful moments shared with the Queen. As an organisation, we were honoured to host Her Majesty on three occasions. Each one was a memorable moment for residents and colleagues who were privileged to be there.
Sky City, 1981
In 1981, The Queen opened Wood Green Sky City in Haringey, North London, a massive mixed housing and shopping development. The three- and four-storey red-brick houses and flats remain home for many MTVH residents today.
The day itself didn't all go according to plan.  At the dress rehearsal, the Queen's lady in waiting tripped over a grille, breaking her ankle. More seriously, as the Queen visited the housing development, there was an IRA bomb scare in the C&S shop situated in the shopping centre beneath.
The opening of Sky City was marked by the Queen planting a silver birch tree. The trowel which she used was kept and remains on display in our offices.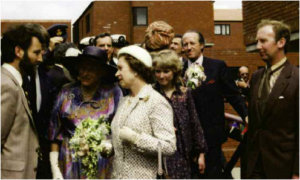 Royal Mint, 1989
When the Royal Mint was relocated to Essex in 1987, it left a major Crown-owned historic site next to Tower Bridge and the City. Metropolitan was a key partner in the development of a significant housing scheme on the site, offering a variant of shared ownership on 100 flats. Royal Mint remains home to MTVH residents.
Given the royal significance of the site, it was given a major royal opening by the Queen. Unfortunately for Metropolitan's Sheila Button who was tasked with accompanying Her Majesty, she arrived in exactly the same shade of fuchsia as the Queen.
Nonetheless, Sheila was honoured to show the Queen the nursery built to serve the new community, where she met residents and their children. The Queen was reported to have visibly enjoyed the moment.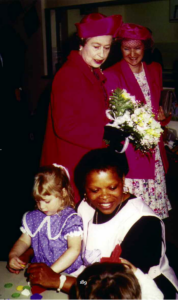 Edmonton Green, 2002
In the mid-1990s, it was decided by Enfield Council and local residents that much of Edmonton Green would be given a major redevelopment. Residents were empowered to shape the new development. They were given training courses in relevant topics and a select group of residents were asked to interview the six bidders.
Metropolitan was part of the winning bid. As a result, 800 new homes were built and nearly 600 refurbished, including Mendip House and Penine House. The scheme included a refurbished shopping centre, new leisure centre, bus station, road layout and open space.
In 2002, marking the Golden Jubilee, the Queen visited the scheme which had by this point been completed, meeting some of the residents who had been so influential in its development.