Summary: New research driven by the voices of young MTVH residents has found the true impact of the housing crisis on the next generation.
---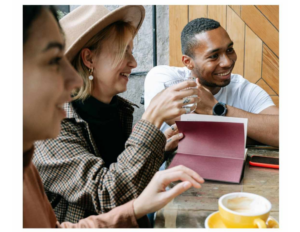 At MTVH, we know that having a home can be the catalyst for so many things in life – starting a family, doing well at school, putting down roots and contributing to your community.
Yet, for young people there is real concern that the homes and futures they aspire to are out of reach.
A new report released by MTVH today reveals that bleak housing prospects are significantly damaging the mental health of young people in the UK.
The housing crisis is also negatively impacting their life choices, according to research commissioned by MTVH, which today called for decision makers and developers to urgently tackle the issue or risk a generation resigned to housing insecurity.
'Housing Futures: The vital role of home in young people's futures', fuses national opinion polling conducted by Savanta ComRes with a series of focus groups and workshops among young MTVH residents from Nottinghamshire, Brent and Lambeth. These young people, currently living in social housing provided stark testimony about the barriers they see to achieving the housing futures that they want and the overall impact this has on their lives.
The report can be read in full here.
Among the key findings, more than 60 per cent of young people surveyed said that thinking about their future housing situation is affecting their mental health. Meanwhile, almost 4 in 5 young people said that the uncertainty surrounding their housing future is affecting life decisions, such as whether to start a family or what jobs they will apply for.
The opinion polling, conducted across the UK, also revealed:
3 in 5 young people say thinking about their current housing situation affects their mental health
59% of young people think they will have to move away from where they live now to be able to afford a home
60% of young people hoped to own their own home in 5 years' time, but fewer than half think it is likely they will do so
Young people overwhelmingly (69%) support more homes being built in their local area
7 in 10 young people believe their housing choices are restricted because the interests of other groups are prioritised over theirs
Over three quarters of young people say that decision-makers must start thinking more about the needs of young people when it comes to housing policies
Meanwhile, the focus groups and workshops exposed how young people feel marginalised and silenced on housing decisions and are currently ill-equipped to make such decisions. They want to see more affordable housing built and would welcome improved financial and housing education at school and college.
The report concludes that for the sake of their future, a generation of young people must urgently be better supported to achieve the housing futures they want. Building many more affordable homes is crucial to achieving this. Following the report, MTVH is calling on national and local decision makers, housing developers, industry leaders and educators to give young people a meaningful voice as the UK looks to solve the housing crisis.
19-year-old Jaden Downer, an MTVH resident in Nottingham, said:
"I want to have a home of my own because it's important to have stability in your life, so you can have a better future. Young people aren't really taught about what you need to do to be able to get the home that you want and I sometimes feel nervous about how my future will turn out. It would be good to see more new homes being built and to make them affordable for people."
24-year-old Jean-Marc (JM) Okende, who took part in the focus group in Brent, said:
"Having a clear route to how I'm going to get the home I want will give me security. If I had that, I can start my own business and take a leap of faith to creating something new for me and my family. We live in a climate where things change quickly, so housing insecurity does make me anxious. We need more homes to be built that are genuinely affordable for local people."
Geeta Nanda OBE, Chief Executive of MTVH, said:
"The devastating impact the failure to tackle the housing crisis is having on young people's wellbeing is truly shocking. We know that having a home can be the catalyst for so many things in life – starting a family, doing well at school, putting down roots and contributing to your community. Yet, as we have heard from young MTVH residents and young people from across the country, there is real concern that the homes and futures they aspire to feel out of reach.
"We need to see many more affordable homes being built, better support and education for young people to help them achieve the housing futures they want, and for young people to have a real voice that is heard in conversations about the future of their communities.
"Failure to tackle these issues head on will only make the impact on future generations even worse, so there is no time to lose."
Tom Copley, Deputy Mayor of London for Housing and Residential Development said:
"This vital research should be a reminder to everyone involved in trying to tackle the housing crisis of the huge impact that safe, secure accommodation has on both physical and mental health. 
"The Mayor and I are supporting the delivery of new genuinely affordable homes in London, including much needed social rented housing. Under Sadiq's mayoralty we have seen council housebuilding return to levels not seen since the 1970s, and we are lobbying the Government for the powers to control rents, putting tenants' rights at the centre of our housing policy. But we know there is more we could do if the Government gave us the funding and resources to help us prevent another generation growing up with the burden of housing insecurity."
Chris Murray, Chief Executive of the Young Brent Foundation said:
"Quality affordable housing is the key element of a strong and secure home, family and community. This report highlights the views and concerns of young people and has the potential to inform and shape the direction of travel for the housing sector."
Cllr Maria Kay, Cabinet Member for Housing and Homelessness at Lambeth Council said:
"These important findings expose a reality that I see every day on the ground. Nowhere is the housing crisis more acutely felt than here in London and among our younger generation.
 Living in secure, decent housing and affording a home of your own is a dream we all aspire to. We know that quality housing is a good foundation for life. You just have to look at educational outcomes and the career prospects that security brings.
 Across local government and in boroughs like Lambeth we recognise that challenge and it's up to us as politicians to find more innovative ways to prevent homelessness from care leavers to young adults and continue building record numbers of affordable and council homes to address this problem."