Summary: MTVH celebrates the great achievements of refugee and migrant women in the UK.
---
The 6th March 2020 marks the 8th anniversary of the Women on The Move Awards, a unique annual ceremony celebrating inspirational leadership and contribution from migrant and refugee women to UK society.
Zrinka Bralo, CEO of Migrants Organise and herself a refugee from Bosnia was inspired to set up the Women on the Move Awards after being presented with the 2011 Voices of Courage Award by the Women's Refugee Commission (WRC) which is presented annually in New York.
MTVH's Migrant Foundation (MF) , a restricted fund of Metropolitan Thames Valley Housing (MTVH) which was established to help migrants and the communities they live in, including people who are refugees and asylum seekers is proud to be part-funding this year's Women on the Move Awards to celebrate our joint vision for inclusivity, fairness and equality for migrant communities.
Since the establishment of Women on the Move, the awards ceremony and associated fellowship programme have had a huge impact on women who strive to fight injustice and build their communities here in the UK. Many of the women involved have personally overcome traumatic events from fleeing war to fighting years of female oppression and against the odds have gone on to lead and inspire other women to create social.
The Migrant Foundation has been working with Migrants Organise for many years and are honoured to be involved in celebrating those who have made it their mission to transform communities, societies and institutions to ensure their voices are valued and respected. The event will be presented by BBC journalist Samira Ahmed   as part of the WOW-Women of the World Festival, held at London's Royal Festival Hall.
We recently spoke to Veecca Smith Uka, who was joint winner of the 2018 Woman of the Year Award, along with colleague Florence Kahuro. Here to give us insight to her journey, and what she has gained from winning the award: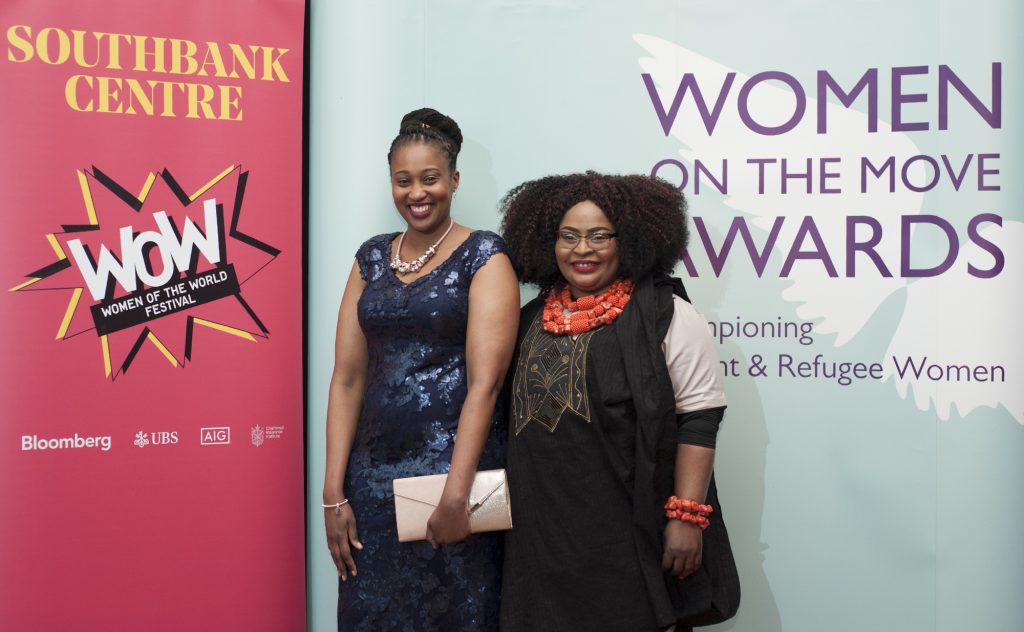 Could you please tell us a little bit about your journey and how you got involved with the Women on the Move Awards?
I am originally from Nigeria but now live in Halifax with my three children. I left my country to seek safety in the UK based on my sexual orientation. I now campaign for LGBTIQ+ rights and am Secretary of African Rainbow Family, a registered charity that supports LGBTIQ+ people of African heritage and the wider BAME community including those seeking asylum in the UK. I am also the co-founder, along with Florence Kahuro and other women, of Sisters United, a grass-roots initiative in Halifax that supports people seeking asylum to settle into their new communities, and provides safe space, help and support to other local people. I got involved in the Women on the Move Awards when Florence and I were declared joint winners of the Woman of the Year Award in 2018 for our efforts to provide people with information and support, connect them to services, and strengthen our community.
How has being recognised for your work impacted your life?
The recognition of my work has really been important as it has provided me with access to so many things and has helped Sisters United grow. It has also increased my networking opportunities allowing people to know who I am. Now people approach me for advice, opportunities to collaborate and ask me to speak at events. 
Thanks to the award, I've become an ambassador for Refugee Week and for Lift the Ban, which campaigns to allow people seeking asylum to have the right to work. I've been involved in conferences and workshops in many different places including Surrey University. Last year my work also received additional recognition and I was named Volunteer of the Year at the Calderdale Community Spirit Awards and received a Heart and Soul Award in Manchester. In turn this not only helps me to drive my work forward even further but it is also a reminder of the importance of actively working with my community and the possibility for change.
The profile that I've been able to build since being recognised via the Awards, and the work that it's facilitated me to go on to do, has helped me on a personal level too. My work was mentioned in the legal proceedings for my asylum case and helped influence the decision to finally grant me refugee status after a wait of five years. The judge even went and researched the Women on the Move Awards and quoted in court what had been said about me and my work during the Awards ceremony! The Awards provides its winners with a very big, high-profile platform from which to fly – and I've definitely flown!
How did you feel when you were awarded in 2018?
When I won a Women on the Move Award it took a while for it to sink in. I was happy when I got the news but once I was up there on stage – well, it was just great! Later on, all the benefits of winning began to unfold. It feels good – I now feel valued, recognised and more confident in myself. Before winning the award, I felt that I was just being myself, putting my head down and doing the work that is important for me and my community. So, when my work was picked up on by others, and public appreciation was shown for what I do, it really felt like a great thing!
 What impact do you think events like these have on migrant communities and why do you think it's important that their achievements are celebrated?
Events like the Women on the Move Awards are important because they provide individual winners and through them, larger migrant communities, with a much higher degree of visibility and a platform to do more valuable work. Celebrating the work of people who also happen to be migrants is also important for challenging and changing the negative narrative around refugees, migrants and people seeking asylum. For me this is very important – it helps reduce the stigma that makes people treat you badly, that reduces and dehumanises you. It reminds people that you are a person, you are human, and you were human before you were forced to seek asylum. It helps restore dignity.
What advice would you give to refugee or migrant young women or girls who aspire to make a fundamental change for injustice in their communities?
My advice to any refugee or young migrant women or girls is to try to be strong and resilient. Embrace your uniqueness, appreciate that it's okay to be different, and never give up – keep striving for what you believe in; fight for it! Above all, be the best in everything you do. You may not have any privilege at all but your work will speak for you.
Click here to watch a short film about the work of Veecca and Sisters United.